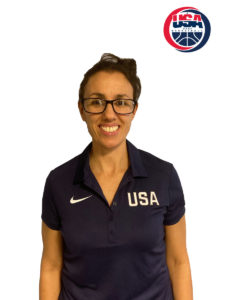 Touria Ouahid Boren
Touria has been involved with basketball for most of her life. She has 24 years of experience as an athlete on both domestic and international levels. She played for the Gallaudet University Women's Basketball Team for five years (one year off due to ACL injuries) and was team captain during her senior year. She helped carry the team to the NCAA championship twice, appearing in the First Round in 1997 and making it all the way to the Sweet 16 in 1999. Prior to her collegiate basketball career, she was on the Swedish Basketball Championship team in 1995 and 1996. Touria competed in the Europe Deaf Basketball Championship four times and won gold medals in all of them (1996, 2000, 2004, and 2008). She also competed on the Swedish women's basketball team five times (1993- fourth place, 1997- silver, 2001- silver, 2005- silver, 2009- gold) and on the USA women's basketball team (2013- gold) at the Deaflympics. She was selected to Gallaudet University's Hall of Fame in 2009 and USA Deaf Basketball's Hall of Fame in 2020.
Touria also has 15 years' worth of coaching experience. She is a very passionate coach with high energy and a desire in developing strong coach-athlete relationships on both professional and personal levels. She is driven and dedicated, and she has strong organizational and communication skills involving goal setting. Her coaching experiences include being a coach/counselor at both the Gallaudet University and Model Secondary School for the Deaf Basketball Camps, being the head coach for various basketball teams at two different schools (Model Secondary School for the Deaf- 2002-2007, Maryland School for the Deaf- 2013-2021). Touria was also an assistant coach for the Gallaudet University Women's Basketball team. She was the Assistant Athletic Director at Maryland School for the Deaf for six years. She currently works at Maryland School for the Deaf. She graduated from Gallaudet University with a bachelor's degree in 2001 and received her master's degree in 2008.
Touria and her husband Lynn Ray Boren, head coach for the USA Deaf Volleyball Team, have two sons, Keanu and Denali, and reside in Frederick, MD.