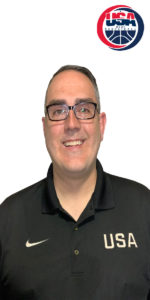 Craig Radford
Craig has been involved in basketball his entire life.  It was a Friday in 1990 when his older brother – a young man he idolized from as early as he can remember won the state championship for the first time in school history from a small town in the middle of nowhere.  One week later, his brother was killed in a car accident that ignited the fire inside of him to carry on and punctuate the legacy through HS basketball leading him to play in the International Olympics as a high school player winning the Gold and playing at Utah State University.   He has coached basketball at different levels and been involved in various basketball clubs for 22 years, won coach of tournament several times, and won multiple championships.  Craig has also chaired multiple successful NWADB tournaments, also chaired 2011's Western States Basketball Tournament in SLC, Utah with 8 schools participating.  He was inducted into the Hall of Fame for NWADB in 2020.  Radford also served on the coaching staff for the USA Olympic basketball team that won gold in Samsun, Turkey, in 2014 and silver in Taipei, Taiwan, in 2015. 
As a Deaf professional, Radford has dedicated his twenty-plus-year career in telecommunications in business development and marketing. He was one of the first few minds to shape the Video Relay Service (VRS) industry. His impact on the growth of VRS resulted in one of the largest private equity acquisitions in Utah history, worth close to $1 billion. After a successful stint as a two-time entrepreneur, Radford worked as a Regional Manager for Sprint Nextel, securing several multi-million-dollar state contracts, and later, as Vice President of Sales and Marketing.  Radford is currently the Vice President of Strategy and Business Development for Connect Direct, the newest business unit of Communication Service for the Deaf (CSD). Connect Direct partners with Fortune 2000 companies and the federal government to provide the clearest, quickest, most comprehensive, and most cost-effective strategies for customer/technical support, inclusive disability and diversity hiring practices, and opening new lines of communication with Deaf and Hard of Hearing customers worldwide.  
Radford holds bachelor's degrees in English and Business Information Systems from Utah State University and an MBA in marketing at the University of Phoenix. He is Post-Crisis Leadership Certified by the University of South Florida and is a Certified Professional in Accessibility Core Competencies (CPACC) from the International Association of Accessibility Professionals (IAAP). He served as Chairman of the Board of Directors for Utah Deaf Education and Literacy, Inc.
As a speaker, author, coach, presenter, and executive with a broad background in education, sales, marketing, business growth, and management, Craig Radford brings a proven track record of leadership, integrity, performance, and adaptability, making him a natural choice to compel organizations to action on all their goals.