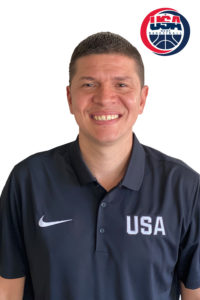 Jeremias Valencia 
Jeremias comes from an extensive background in basketball and also has a tremendous amount of experience in contributing to the youth community.  He was the captain for the Gallaudet University men's basketball team for four years, was selected to be on the Deaflympics US men's basketball team in 2001 and 2005, played in the international PanAm Games in 1999, 2011 and 2016, played at the World Deaf Basketball Championships in 2003, 2015, and 2019, and was recognized as the USADB MVP. Jeremias also played for a semi-pro team for the American Basketball Association in Ontario, California, for one season.
Jeremias has coached a wide variety of teams, including at the elementary, middle school, and high school levels, as well as a traveling team and a model adult team. He was the head coach for the boys' varsity basketball team at California School for the Deaf, Riverside for 3 years. He held the record for the most winning season in deaf school history with 16 wins in one season. He is currently the head coach for the Maryland School for the Deaf boys' middle school varsity basketball team in Frederick, MD. He was the USADB Youth Director for two years before he became the International Director for the USADB organization. He founded the nationwide deaf middle school basketball tournament, The Iron Five Classic, as well as the Stars Basketball Camp. Jeremias has a bachelor's degree in Physical Education and a master's degree in Deaf Education.
He currently works as the Assistant Athletic Director at Maryland School for the Deaf. He resides in Frederick, Maryland. He has five children.