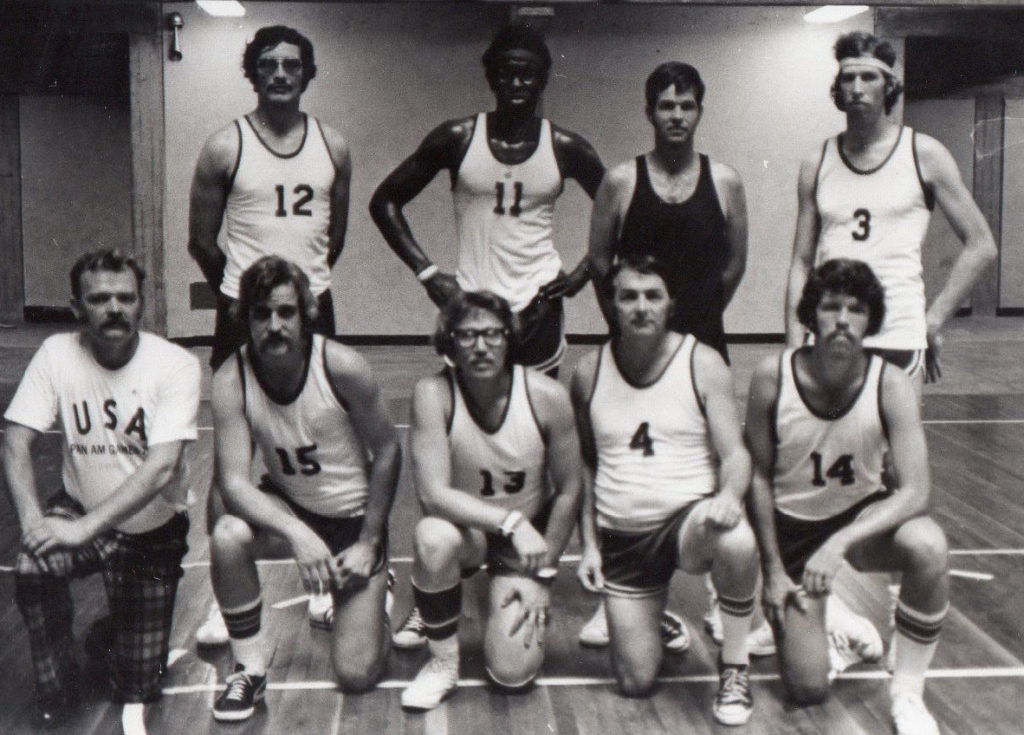 Back Row (Left to Right):
#12 Jack Cooper, #11Don Davis, (Black Tanktop) Garland Boren, # 3 Dan Buchhloz
Front Row (Left to Right): Head Coach (TBA) #15 Dennis Gabel, #13 Gene E. Carr, #4 Kevin Milligan, #14 Durston Winesburg
According to the Pan Am Organizing Committee, five nations had registered to participate in basketball. Unfortunately, three countries failed to send their teams, thus the United States and Vene­zuela were the only nations having teams. The USA won both games, 118-36 and 88-38. An exhibition game was also staged with a local hearing Venezuelan team which proved to be a rough and tumble affair, and the United States lost in the final second, 70-69. Four hearing players were taken out of the game on personal fouls. The American Deaf, however, got a big hand, when the game was over.
The USA had 7 of 8 players in double fig­ures in the first game, and they were Gene E. Carr of Dallas, Texas (10), Dan Buchholz of Minneapolis, Minnesota (13), 6-9 Don Davis of Buffalo, New York, (28), Durston Winesburg of South Milwaukee, Wisconsin, (25), Kevin Milligan of Cheek- towage, New York (13), Garland Boren of Austin, Texas, (11), and Jack Cooper of Olathe, Kansas (11). Dennis Gabel, also of Olathe, was the eighth player competing in basketball. Winesburg garner­ed 66 points in three games, an average of 22 points per game.